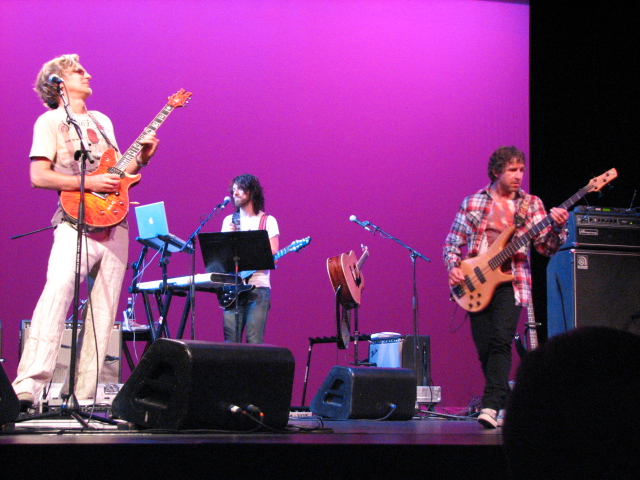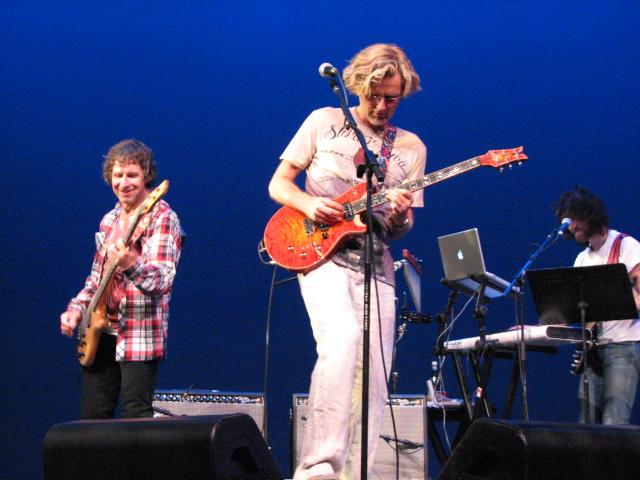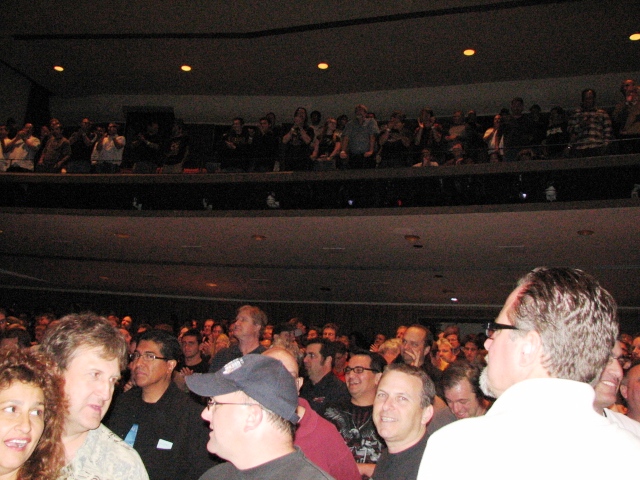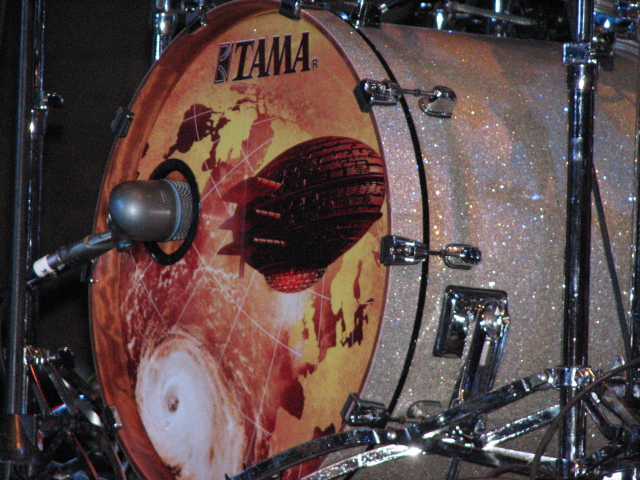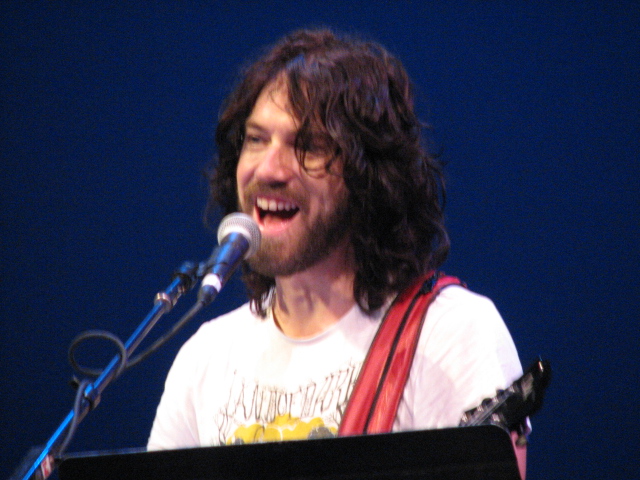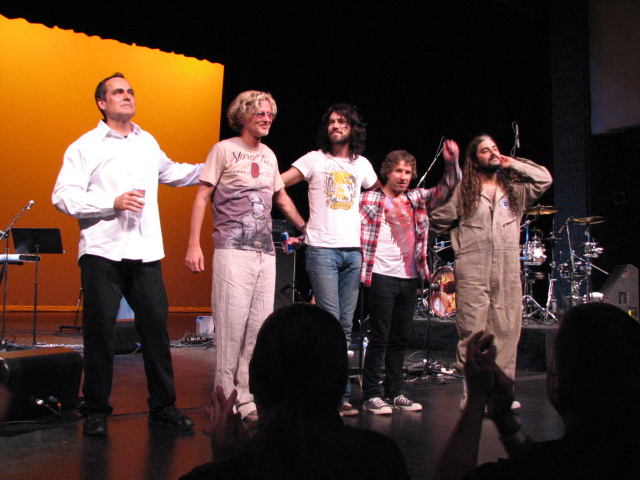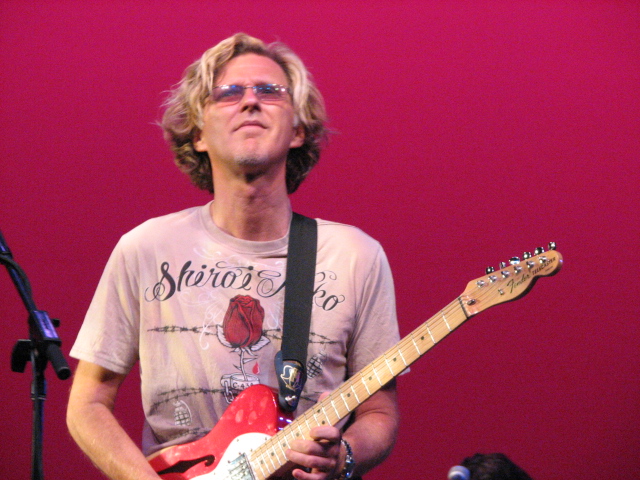 What a show, glad i went , instead of Coachella, Transatlantic is Prog greatness, you could see how grateful they were for our response, "Grateful" would describe how i feel after witnessing such an awesome show.....THANK YOU CALPROG!


Simply the best progressive rock concert in a small venue that I ever saw. And I've seen alot of them.

You know you are at a progressive rock show when the band says, "we've been here for two hours and we've only played two songs."

TA played nearly their entire catalog, including opening up with Whirlwind played in its entirety with no breaks.

Great show, I'm still amazed.


It was great talking to the band members for a few moments. It's funny. I have been a fan of Neal Morse since I first saw Spock's Beard perform in 1995. I have seen the guy perform probably 20 times or more since and am even a member of the Inner Circle club, but I have never met him personally. I generally don't bother musicians when I see them at shows so though I had seen him quite often, I had never spoken to him. Last night was a great opportunity though to tell Neal how much I truly appreciate his work. I did so and I thank you for that opportunity. I know that you and I share an extreme appreciation for Neal's talent and I truly think he is one of the ultimately unsung musical/songwriting talents in rock and roll period. He seemed sincerely appreciative of my comments and was very gracious. Mike, Pete, Roine and Daniel were all extremely nice guys as well. I have been to a few of these meet and greets after shows and sometimes the performers seem like they want to be somewhere else. Not the case last night. Each member was very gracious and friendly. They seemed like they really appreciated the positive feedback that they were getting. Pete was being a bit hard on himself for mistakes he had made in the performance, but you could have fooled me. I thought the show was amazing.

Last night's concert was an amazing experience, and I'd like to thank you once again for organizing this event for all of the prog fans here in Southern California.

The set list was the best they could come up with, in my opinion. The Whirlwind in it's entirety, plus three greatest epics and two ballads from the first two albums - I couldn't wish for a better one. Frankly, I must admit that even though I thought that I would enjoy their classics the most, it was the live rendition of The Whirlwind that absolutely blew my mind. Man, I'm so happy I could make it to this concert.

My only regret about last night was... that the orange-colored "The Whirlwind" T-shirts (like the one Mike was wearing) were all gone at the merchandise stand by the time I got to the theater (!), but everything else went perfect :-))

Of course, it was so cool to be able to meet the guys after the concert and to chat with all of them. They autographed my Whirlwind box set, Daniel signed the Pain Of Salvation CD for me, and Mike was very kind to sign "Lifting Shadows" - the Dream Theater biography book that I brought with me.



Well, that was just the....most awesome show I've ever seen. Timing in at over 3 hours.

As Portnoy said at the 2 hour mark, "It's been 2 hours and we've played 2 songs. We may have to go 4,5,6 hours!"

I am serious though, I knew before an hour had gone by that this was the best concert I had ever seen. And it wasn't close. (Of course, I've never seen Transatlantic.)

I did write the set list down, if anyone wants it.

They did do the entire Whirlwind. And it could be argued it was the best part of the night. I don't think I would have ever, ever, ever thought that could be the case, but I guess you had to be there.

Well, that was certainly the ride of a lifetime! Probably the longest concert I've ever experienced with the fewest amount of songs LOL. Amazing value but that's not the point -- the music was.

Very happy to report that the band delivered, in spades, in spite of it being opening night and perhaps a few minor kinks to work out. Overall, the performance was energetic, uplifting, and pure bliss for the fan of these type of extended songs.

I really enjoyed watching the band interact, glancing at one another, egging each other on, laughing and making rock and roll faces and just having a great time playing this music as one living, breathing entity. Kudos to the whole band but extra cream on top to Daniel Gildenlow, who, as "utility player", really, REALLY helped flesh-out the arrangements and added all the little things that brought the music together in a manner most PROG.

Personally, I was very happy to hear both "Duel With the Devil" and "Bridge Across Forever", two of my favorite songs of all time. Neal chose to perform "Bridge" in a lower key than that on the album (at least it sounded that way to me), so I was confused when the song started, wondering "What song is this?" Neal was accompanied by Roine comping some lovely, emotional, tasteful electric guitar which really elevated this classic life-after-death ballad to a whole new level. Neal, of course, really bared his soul on this one, and, as with every time I've seen Neal perform, I got major, major gooseberries and shimmies down the rain spouts.

My girlfriend -- largely unfamiliar with this material -- hung in there like a trooper; I could only laugh as I imagined what was going through her mind as these mega-epics spewed forth like so much Icelandic volcanic ash. She told me she really loved the energy and interplay of the band, enjoyed the melodic vocals, and felt the positive spirit the band brought forth. She loves live music of almost any type and I was happy she connected with the whole spectacle (otherwise I would've had all kinds of hell to pay LOL).

As a musician, I came away from the show not only inspired, but incredibly humbled by the drive, work ethic, imagination and sheer talent of these gentlemen. Sure, I express criticisms here from time to time but I always hope they're taken in context with the overriding sense of love and respect I have for this band. I wouldn't say anything if the band and the songs didn't move me so profoundly!

Major thanks to Transatlantic, Jim Harrel, the staff, and the Downey Theater (not a bad seat in the place!) for an unforgettable evening of the finest in Prog Rock.

I rarely say this, but I wish I could follow the tour to San Francisco tonight!


When you hear an ovation like the one at the end of the show Saturday night, you have to know how important Prog is to the people who worship it. This was one of the greatest shows I have ever witnessed. The musicianship was of the highest order. The group sounded incredibly tight and it was the first night of the tour! I couldn't wait to hear The Whirlwind live since it has been playing in my car almost non-stop since the day it came out. I just couldn't believe they played three 30 minute epics in the second half of the show. The setlist was perfect. Every song I wanted to hear was in the set.


...I stayed at the Embassy and talked with Neal and Pete. Mike walked by on the way to the sound check and said nice shirt (had a DT shirt on). The hotel was a cult meeting with all the fans there. I moved from the San Fernando Valley to Sacramento a couple years ago, and it was the right decision to go to Downey to see them instead of San Francisco. Thank you very much for getting the rates at the hotel and making this not just a concert but a special event for all us progressive rock fans.


I'll tell ya Papa Jim, I've been to a lot of shows/concerts in my day, but none of them as good as the ones that you put on for us. The perfect music with the perfect line up with the perfect venue. Just when I thought it couldn't get better, you bring us Transatlantic. What a great show. Being a huge fan of Dream Theater then later Spock's Beard and the genius of Neal Morse I was just blown away. Also I want to say thanks for hooking my friend up with the meet and greet passes after the show and myself having knee surgery just 5 days prior I had thoughts of maybe even missing the show of the year.